Customers who trust us with their assets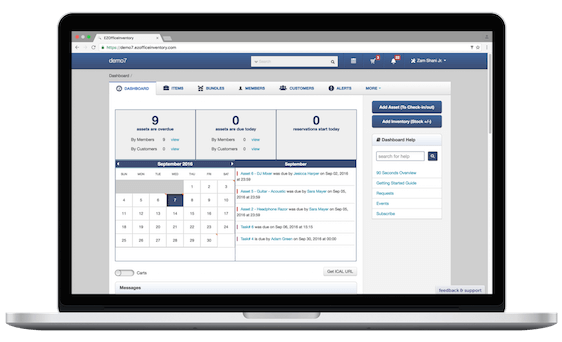 Keep your demo equipment in optimal shape
Increase sales by keeping your demo equipment in top shape. The built-in services and maintenance module helps improve asset productivity.
Check out items to Salespersons
Reserve and checkout assets to your sales team. Send automated emails to salespersons to pick up items or return them when it's time.
Track demo equipment checked out to potentials
Track the activity of your salespersons as they go out in the field. Enable them to check out items to their leads and potentials and record logs.
Track assets across locations
Track assets on a map. Know where they are being scanned. If your teams are spread across locations, use Access Control to implement permissions.
View details in Salesforce
Seamless integration with Salesforce to help you get the most out of both AssetSonar and Salesforce. Pull in contacts from Salesforce to checkout assets to them.
Optimize asset utilization and reduce costs
Get the most out of your assets. Use in-depth analytics and reports to understand equipment usage patterns. Improve utilization workflows to reduce costs.
Ready to improve demo equipment tracking for your sales teams?